You can invite your spouse to SquareFairy so you both save money and time preparing your divorce papers, and splitting your property. Share some or all of the information you have entered with them one time. Normally, you would invite them after you have prepared your own divorce papers.
Step 1 – Sign in
Just make sure you are signed into your account, and see the Dashboard link.

Step 2 – Select Recommended Service – Invite My Spouse
On the bottom half of the Dashboard, you will see two lists of available services.
Recommended
I want a Divorce
You might see others as we add additional categories.
Select the "I would like to invite my spouse to SquareFairy" option, which should be available under both lists, as shown below.

Enter Your Spouse's E-mail Address
You should see the "Let's Send an Invitation" screen.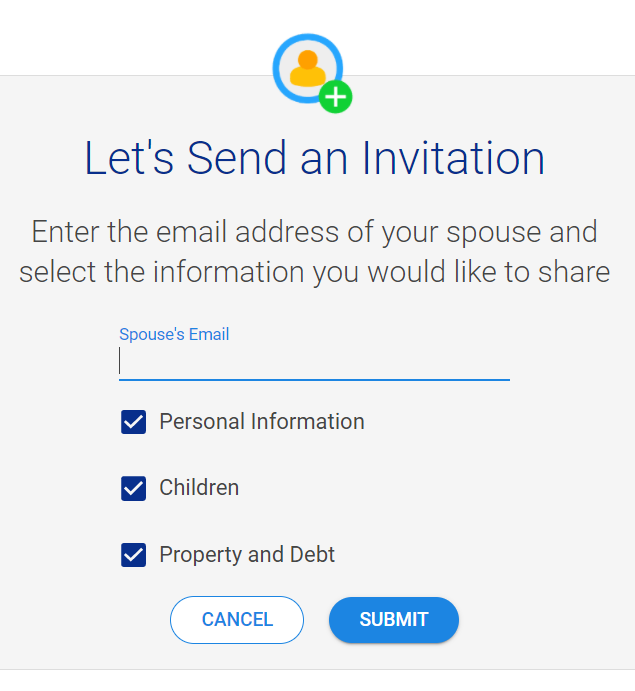 Enter the e-mail address your spouse would like to use for SquareFairy. You might want to check with them first to let them know you're doing this, and agree on the appropriate address. You should probably use a personal address, rather than a work e-mail.
Decide Which Information You Want to Share
Select the information you wish to share with them. This is a one-time copy, so as you add more information, or change anything, they will not see your changes. And any changes they make will not affect your information.
Personal Information – Includes most of the information you see on the Personal Information summary screen. It does not copy your contact number, or education, as this applies only to you.
Children – Includes all of the information you see on the Children tab, including their current living address. Do not share this if you wish to keep the childrens' whereabouts private.
Property and Debt – Includes all of the information you entered about property and debt you believe is community property.
Click the SUBMIT button to send the invitation. If you change your mind before they accept, you can return to this screen, and select the UNINVITE button.
Let Your Spouse Know to Expect the Invitation
Your spouse will receive an e-mail from squarefairy like this: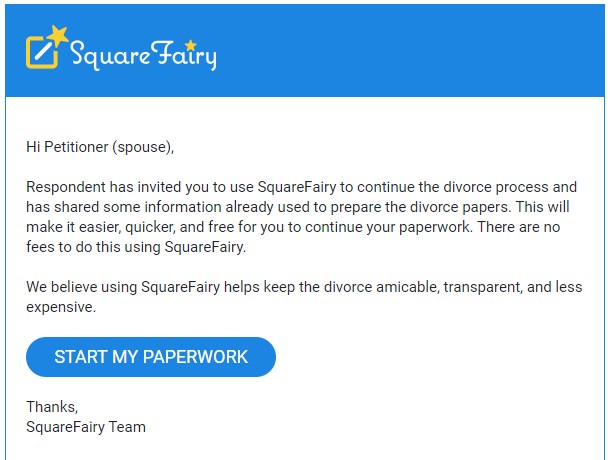 Accepting the Invitation
Once your spouse accepts the invitation by clicking "START MY PAPERWORK," they will be asked to sign up for the SquareFairy service, just as you did. They will receive a sign-up verification code. And they will then see this screen.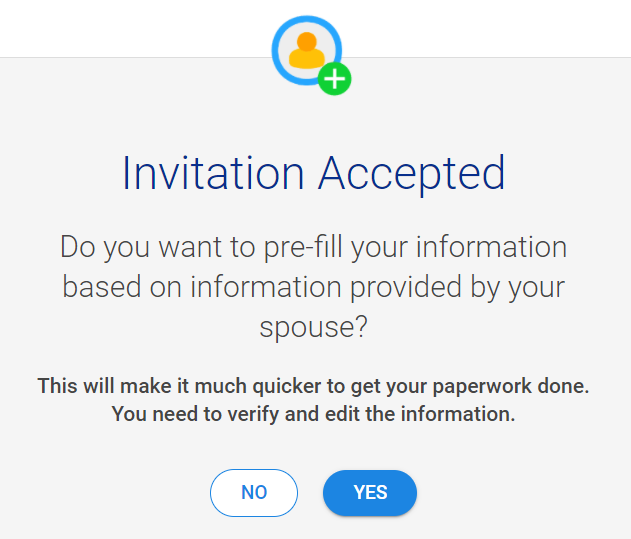 Pre-Fill Your Information
If you (your spouse) agree to pre-fill information with the shared information, click YES and you will see a progress bar.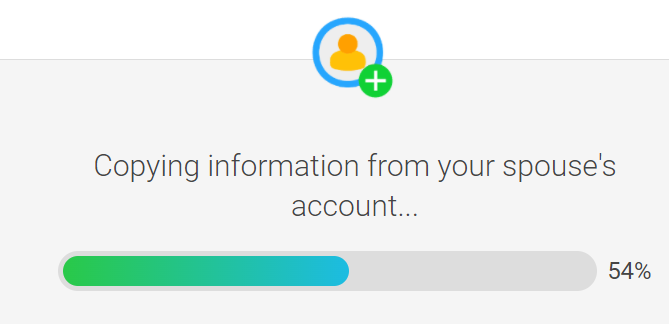 Additional Information
Once the copy is made, you are taken to the Personal Information tab. Here you will see what information is still needed.

Click the blue edit pencil, and fill in the information requested.
Your Forms are Ready!
If you shared/accepted all the information, your initial divorce forms are now ready. We adjust the forms depending on which of you is considered the Petitioner (one who initially files for divorce/separation) or the Respondent.
Review the forms on the Children and Property and Debt tabs, and then proceed to "My Forms."
Here, you can download or view your "Initial Filing" documents along with instructions.