What is the best marriage advice?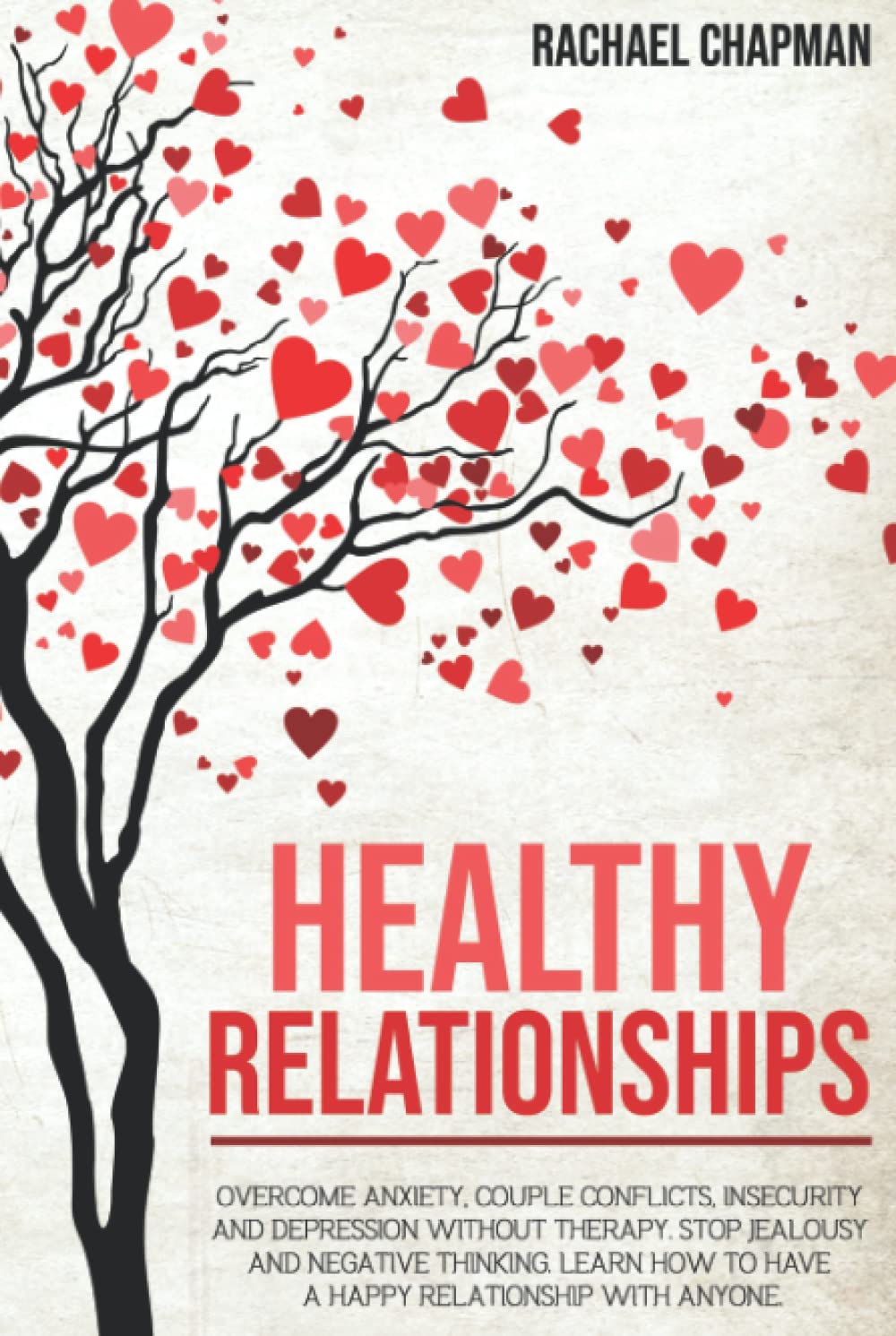 If you're looking for marriage advice, one option is to find what others have gone through to improve their marriages. You might not have close friends to discuss this with, so you might look to books on the topic. We looked through the most-talked about books on Amazon on these topics, published in 2021, and cut the list down. These books seemed most aligned with our mission at SquareFairy. They help struggling couples figure out how to maintain their marriage, or move forward with a separation of some kind.
What Makes a Marriage Last: 40 Celebrated Couples Share with Us the Secrets to a Happy Life
by Marlo Thomas, Phil Donahue (Amazon Link)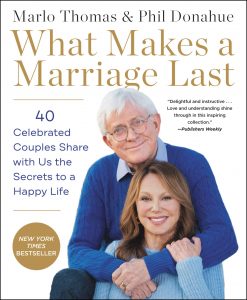 "What Makes a Marriage Last" offers practical and heartfelt wisdom for couples of all ages, and a rare glimpse into the lives of husbands and wives we have come to know and love. Some of the celebrity couples include Alan Alda and his wife Arlene, and Viola Davis and her husband Julius Tennon.
One reviewer said she and her husband read a chapter each evening, to learn about keeping their marriage interesting. They then have discussions about the lessons these famous couples learned. You may not be a famous couple, with the issues fame brings to a relationship, or the benefits of being wealthy celebrities. But we think you'll be able learn from some of the interviews, and hopefully adapt the lessons to your own marriage.
---
The Four Laws of Love: Guaranteed Success for Every Married Couple
by Jimmy Evans (Amazon Link)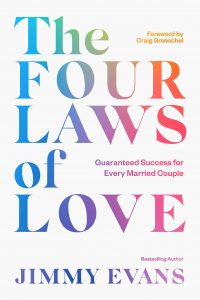 In his "Four Laws of Love," Jimmy Evans outlines the pillars upon which God designed marriage. He tells the story of his own marriage, which was hurtling toward divorce. He (a self-proclaimed "bad husband") then came to recognize and put into practice the four laws, outlined in the book:
Priority
Pursuit
Partnership
Purity
An Amazon reviewer also sums it up: "It's an excellent read – applicable to everyday matters regarding marriage, differences we face, every area that comes up with marriage – he addresses with truth, sincerity, practicality, not afraid to address any issues concerning marriage & ALL that goes with it."
---
How to Be an Adult in Relationships: The Five Keys to Mindful Loving
by David Richo (Amazon Link)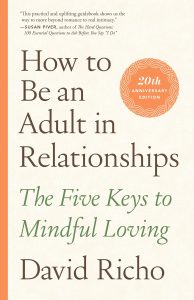 How to Be an Adult in Relationships explores five hallmarks of mindful loving and how they play a key role in marriages, or other relationships. These hallmarks include a mutual commitment to what the author calls the "five A's": attention, acceptance, appreciation, affection, and allowing.
One reviewer "found this book to be a great source of relief and understanding of myself, and [her] relationships. This book is great if you are wanting to understand why certain relationships in your life are rocky or not what you dreamt they would be."
---
Healthy Relationships
by Rachael Chapman (Amazon Link)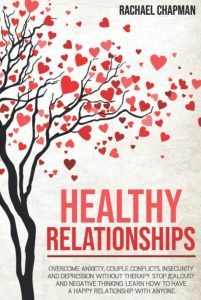 The subtitle for "Healthy Relationships" is "Overcome Anxiety, Couple Conflicts, Insecurity and Depression without therapy. Stop Jealousy and Negative Thinking. Learn how to have a Happy Relationship with anyone." The book helps you learn what makes a relationship healthy as well as the steps you can take to improve your own. It may involve expressing affection to understanding the warning signs of mistrust and dysfunction.
One of the readers brings up a great point regarding kids as part of the relationship. "I would recommend this book as a read for someone that feels that communication is failing in their relationship. I wish she would mention advice on relationships with significant others that have kids. A relationship between 2 is already complicated, add kids and it becomes really hard to manage."
---
Healing Your Marriage When Trust Is Broken: Finding Forgiveness and Restoration
by Cindy Beall (Amazon Link)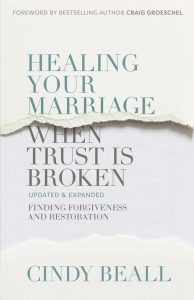 The author's world was shattered when her husband confessed his numerous affairs. And then the stunning news that another woman was pregnant with his child. With the wisdom and healing she's gained in the twenty years since, she shares her own experience as well as those of couples she's counselled. She shares her religious faith-based experiences in trying to:
Seek support, counseling, and prayer after deception has surfaced
Rebuild trust that's been eroded by transgressions
Help your family heal from grief
Rely on God to pursue forgiveness and move forward in new promises
---
The 80/80 Marriage: A New Model for a Happier, Stronger Relationship
by Kate Klemp, PhD (Amazon Link)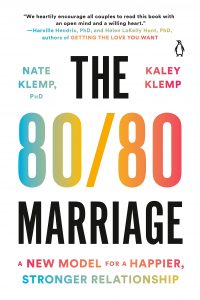 Based on their own strained relationship, and interviews with over 100 other couples, the authors of "80/80 Marriage" developed the model for balancing career, family, and love. The 80/80 Marriage pushes couples beyond the idea of "fairness" toward one grounded on generosity and shared success, that calls for each partner to contribute 80 percent to build the strongest possible relationship.
One recent reviewer relates how the book helps during the challenging COVID period: "After months spent at home with our spouses during a pandemic it is apparent that being in the presence of your partner is not the same as being present to your partner. Adopting a grateful and generous mindset toward your partner and marriage has already helped our relationship."
---
Fight Less, Love More: 5-Minute Conversations to Change Your Relationship without Blowing Up or Giving In
by Laurie Puhn (Amazon Link)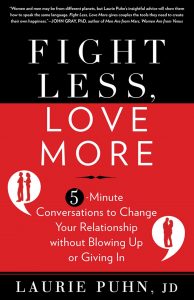 The author brings her mediator experiences to bear in this book, to help you learn how to identify bad verbal habits, your instinctive responses, and emotional reasoning that can cloud your judgment and lead to the deterioration of otherwise healthy relationships. She presents presents simple 5-minute strategies to create immediate, positive changes and provide long-lasting communication skills that couples can continually employ when faced with conflict.
One reviewer found it helped both her own and her daughter's relationship: "I also love how she breaks it down to easy, 5 minute conversations with your partner, that can dramatically change how you relate to one another."
SquareFairy applauds the author for her book, and her work at mediation in divorces, as it aligns well with our approach to helping couples.
---
Living Unbroken: Reclaiming Your Life and Your Heart after Divorce
by Tracie Miles (Amazon Link)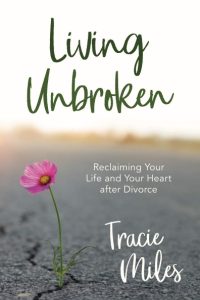 "Living Unbroken" attempts to help you understand and overcome the emotional toll divorce, separation, and the loss of a marriage has on a woman's well-being. The author, who went through her own divorce, helps women on a journey that provides hope, encouragement, and practical guidance for living your best life even if it's not the life you once imagined.
While not a marriage advice book to help you maintain and improve your marriage, we recognize that some couples will separate. We're trying to provide you with the resources to help you move forward, whatever that means for you, and rediscover the joy of life.
Please also see Nicole Lewis' blog, "Check your Wellness."
---
Outdated: Find Love That Lasts When Dating Has Changed
by Jonathan "JP" Pokluda and Kevin McConaghy (Amazon Link)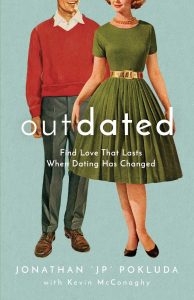 If you decide to end your relationship, you might then seek another. The author has counseled thousands of singles through the pain and heartbreak of dating the way it's been done for a while. He dispels the myths, misconceptions, and fairy tales you've believed about dating and replaces them with approaches that may work for you.
One reviewer succinctly summarizes the book by writing that it, "breaks down the most common traps we fall into when dating—ideas like "The One" or "Love at First Sight." Note: He writes from a heavily Christian standpoint, so if that's not your jam, that's okay. I still would argue that this book contains suggestions that are for ANYONE. We are all valuable and should date like we are."
---
Call for Authors of books on Marriage Advice
SquareFairy is always looking for authors or service providers who want to share their stories through blogs. Please use the Contact Us link on the site.